Products
Dermamelan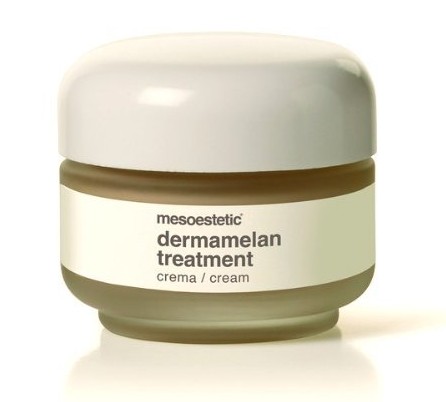 Treats Melasma~Reduce/Eliminate Unsightly Brown Discoloration
Treats Hyperpigmentation*Safe to use on both Lighter or Darker Skin Tones
Reduces Sun Damage & Pore Size, Treats Pregnancy Mask
Improves Signs of Photo Damaged Skin
Regulates Sebaceous Secretion especially in mixed and oily skins
Indications
Correct and treat unattractive skin blemishes/discoloration caused by excess melanin in the skin.
Ingredients
Agua, Propylene, Glycol Dicapryiate, Dicaprate, Ethylhexy Methoxycinamate, Polyglyceryl 4 Isostearate, Cetil Peg./ppg1q1, Dimethicone, Hexyl Laurate, Kojic Acid, Sorbitan Stearate, Sodium Ascorbyl Phosphate, Glycirhiza, Butyl Methoxydibenzoyimethane, Stearyl Alchol, Phosphatidyl Choline, Lanolin, Niacinamde, orus Nigra, Tocopheryl Acetate, Cyclopentasioxane, Dimethicone, Arbutin, Sodium Chloride, Retinyl Palmtate, Stearl Dimethicone, Cer Alba, Disodium Edita Tochopheryl, Bht, Polysorbare 60, Ascorbyl Palmtate, Xanthan Gum. Citric Acid, Methylchicroisothiazolinone and Methylisothiazolinone, Parfum
Directions
Apply Dermamelan Treatment cream twice daily morning and evening. Apply moisturizing sunscreen 15 minutes after application of Dermamelan Treatment for solar protection. Mesoestetic Sunblock is recommended.